Oven Roasted Pork Ribs are the easiest way that I know to prepare barbecue in the comfort of your own house. Barbecue weather is beautiful when it happens, but not every day is barbecue weather! Regardless, when you have the hankering for pork ribs, this recipe will do the trick!
My favorite ribs!
There are plenty of recipes online with methods that give you pork ribs that fall off the bone, wrapped in double foil and slow baked for 2-3 hours. To me, ribs with meat falling off the bone sounds like pot roast. I like a crispy bacon-y crust on my pork ribs and I certainly don't want to wait 3 hours for them! One hour of roasting time is all these ribs need!
Covering or wrapping the Oven Roasted Pork Ribs in aluminum foil will cause the ribs to steam instead of roast. If you are craving a crispy texture, leave the ribs uncovered as they cook. Also, use flaked sea salt for an extra crispy texture. Sea salt is not as bitter and salty as common salt. Two tablespoons of flaked sea salt (20g) should be enough for a good crust. Also, freshly cracked black pepper is a must!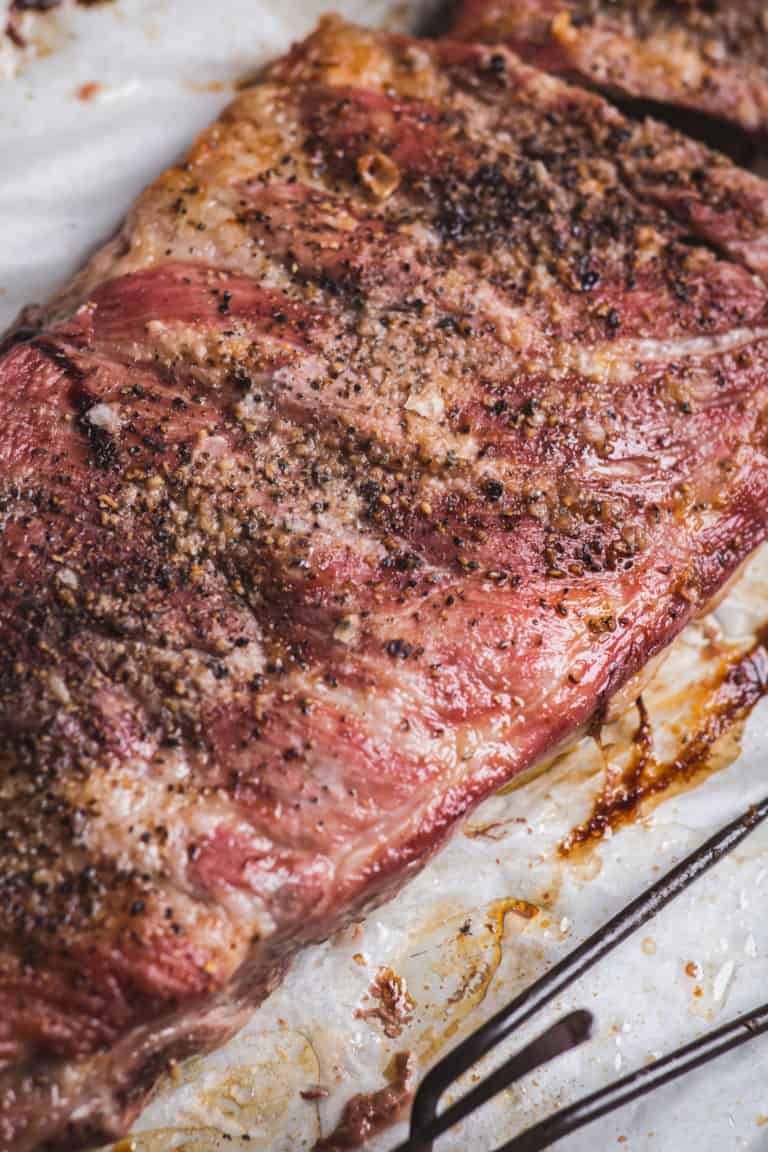 What kind of ribs should I buy?
Should you purchase baby back or spareribs? It doesn't matter. I have made both types of pork ribs using this oven roasting method and the result is similar. If you elect to roast baby back ribs, you may want to check the temperature at 45 minutes. If the meat thermometer registers 180°F (82°C) then the ribs are ready.
Chunky Barbecue Sauce is the best sauce for these Oven Roasted Pork Ribs, in my opinion. This is my go-to recipe any time I have a barbecue, whether indoors or outdoors.
Print
Oven Roasted Pork Ribs
Author:
Prep Time:

5 minutes

Cook Time:

60 minutes

Total Time:

1 hour 5 minutes

Yield:

6

servings

1

x
3 lb. rack of pork spareribs or pork baby back ribs (1.36kg)
Flaked sea salt to taste (about 1 tbsp./12g)
Cracked black pepper (about 1 tbsp. / 6g)
1 recipe Chunky Barbecue Sauce
Instructions
Heat your oven to 400°F (204°C). Line a baking sheet with parchment paper. Remove the pork ribs from their packaging, and rinse under running water for 1-2 minutes. Place the ribs in the prepared pan and pat dry with paper towels.
Season the pork ribs with salt and pepper. Place the ribs in the pre-heated oven and roast for 45-60 minutes. Check the temperature with a meat thermometer to make sure it registers 180°F (82°C).
Slice into individual rib portions and serve with warmed bbq sauce.