In the springtime, with Lent around the corner, Caldo de Marisco is offered at most of the Mexican style restaurants in our area. Here in the southermost tip of Texas, we are close to the Gulf Coast, and we can get some amazing seafood. Our Gulf shrimp really shines in caldo de marisco, the traditional spicy seafood soup that is filled with crab, scallops, fish and served with plenty of limes for squeezing over.
Use the Freshest Ingredients for Caldo de Marisco
However, because we are beef people, lviing in cattle country, some of the caldo de marisco that I have seen delivered to hungry restaurant guests seems less than fresh. Has it been siting in the fridge waiting for someone to order it? Who knows? The best caldo de marisco is fresh, fresh, fresh, with just a hint of ocean breeze, and less fish aroma.
If you have someone in the family that fishes, caldo de marisco is an easy fish soup that will be requested time and again. The toasted chile ancho doesn't overpower the delicate flavors of the seafood. The deep red stock is rich and satisfying, and without even trying, is healthy and low in calories.
Caldo de Marisco is a Lenten Favorite
In my experience, it is best to make caldo de marisco and consume it within 24 hours. Freezing the stock for later use has never worked out for me, and after 48 hours, the chiles starts to lose its delicate punch, and the scent of the ocean in the stock seems to fade away. In spite of the strong flavors used in caldo de marisco, the dish is a delicate as a flower. Complicated, but nuanced in flavor, I prefer to make and consume in a single day.
I usually serve caldo de marisco with toasted corn tortillas, or even quesadillas made with corn tortillas. Corn, chile and tomatoes are always such a natural flavor partnership. A generous bowl of guacamole on the side would be the perfect accompaniment. Don't forget the Mexican beer!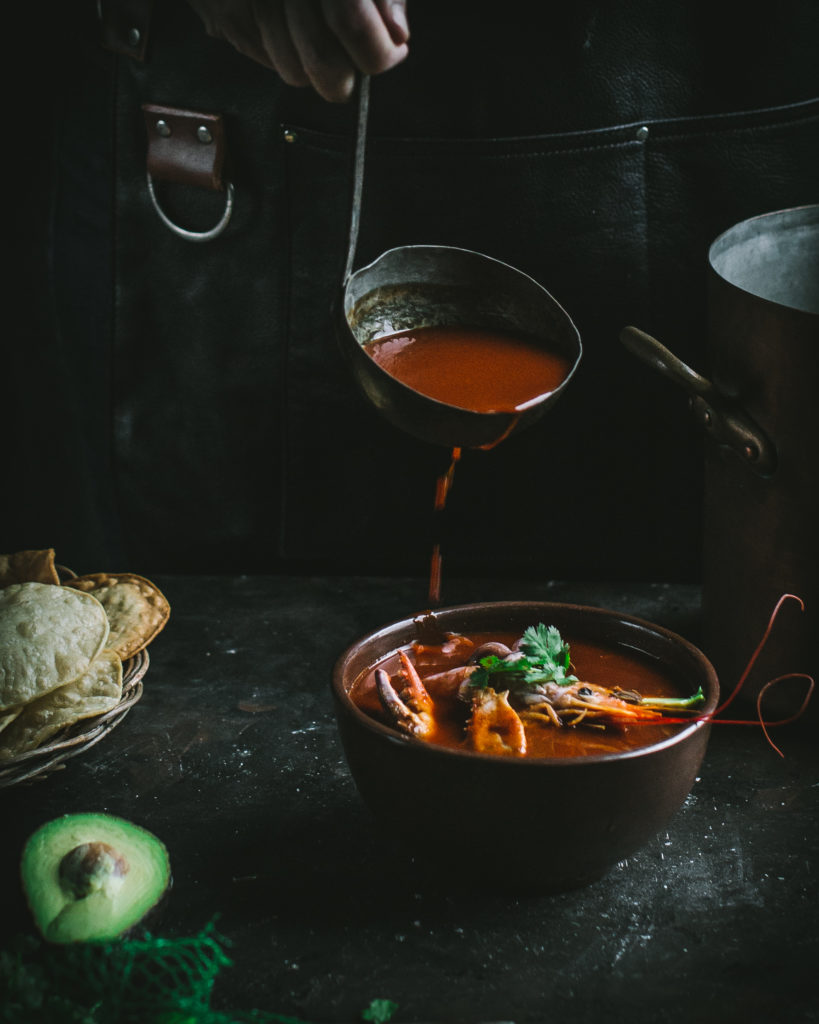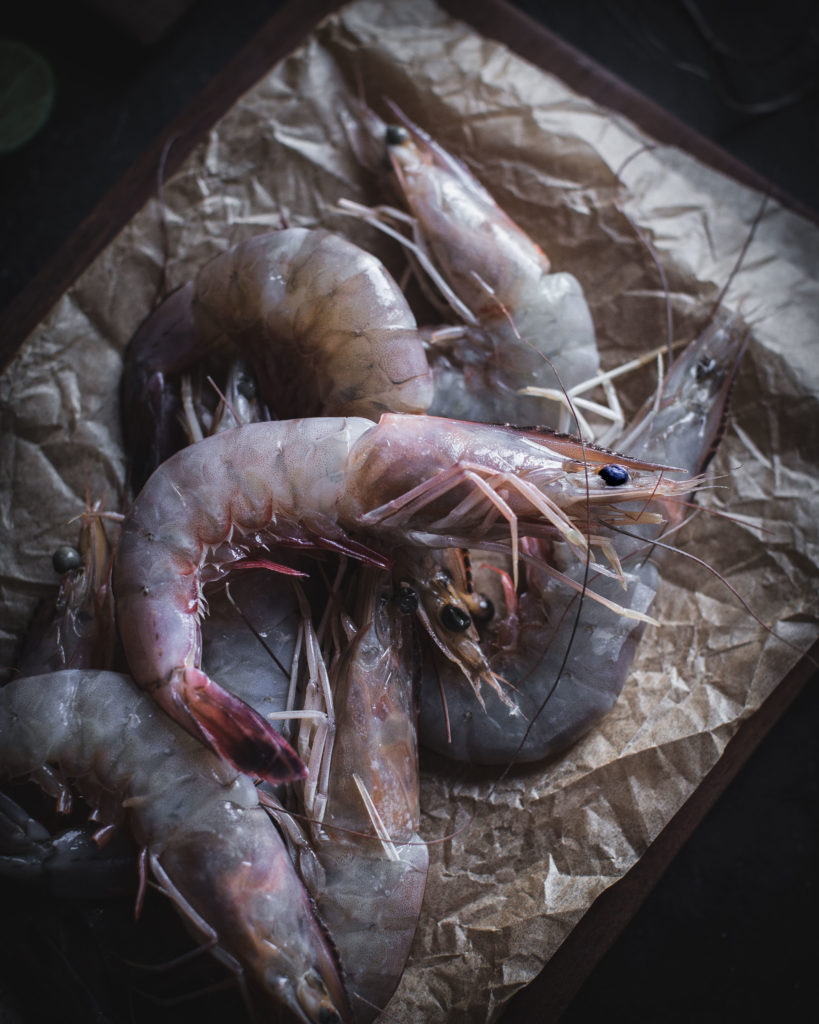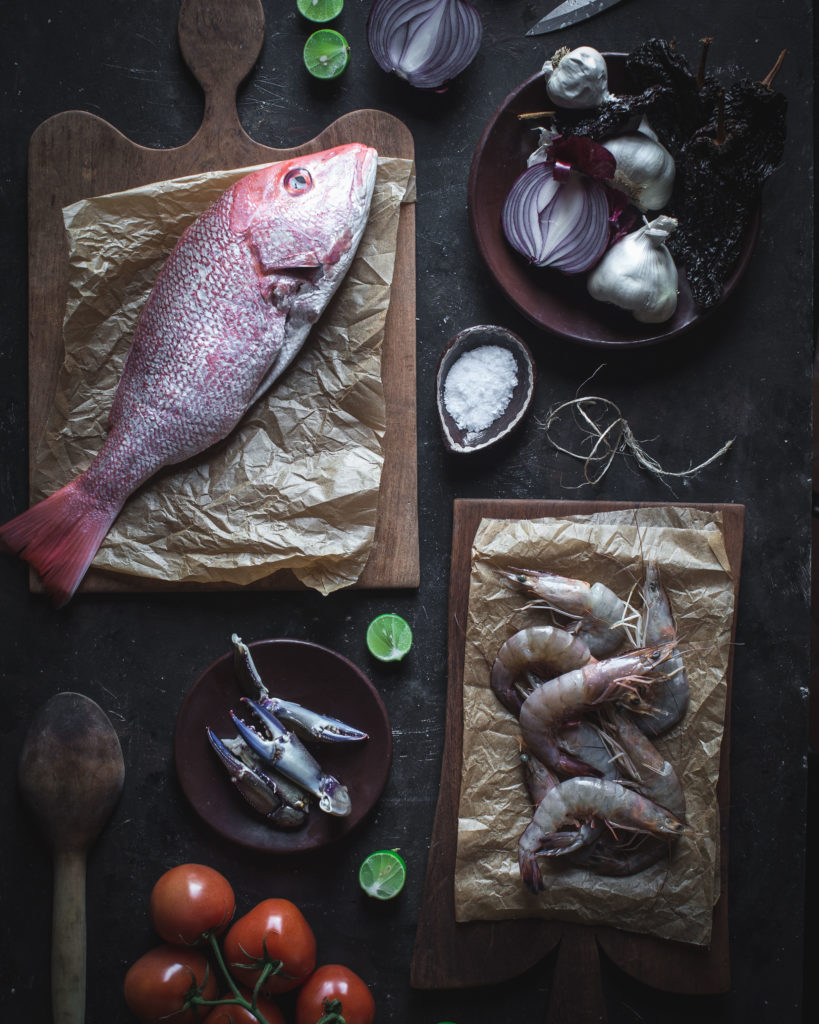 Print
Caldo de Marisco (Spicy Seafood Soup)
Author:
Prep Time:

15 min

Cook Time:

2 hours

Total Time:

2 hours 15 minutes

Yield:

8

servings

1

x
Category:

Soup

Method:

Stovetop

Cuisine:

Mexican
2 dried chile ancho
5 qt. water (5 lt.)
1 red snapper, scaled and fileted, with carcass, head and filets reserved (about 2lbs./1 kg*)
2 chile serrano, whole
1 whole head of garlic, unpeeled with loose husks removed
3 sprigs fresh oregano
3 sprigs fresh thyme
3 sprigs fresh marjoram
2 tbsp. (10 gr) chopped fresh cilantro
1 lb. (500 gr) tomatoes
1 onion, peeled and chopped
1 lb. scallops
1 lb. (500 gr) crab in shell (I use small blue crab, about 4 oz./113 gr each)
1 lb. (500 gr) small shrimp, in shell with head*
1 lb. (500 gr) of one or a combination of the following:  squid, mussels, octopus*
Salt to taste
Cilantro, lime wedges and avocado for garnish
Instructions
Heat the broiler in your oven. Place the chile ancho in a pan, and toast under the broiler for 30 seconds, until they are just toasted. Keep a watchful eye, as they can quickly burn. Remove from the broiler and set aside.
Pour the water in a large stock pot and bring to a to a boil. Add the fish head, carcass, (not the filets just yet) chiles, garlic, oregano, thyme, marjoram and cilantro. Cover with a lid, and lower the heat to a gentle simmer, allowing the stock to cook for 1 ½ hours. Remove from the heat, allow to cool, and strain to remove the ingredients from the stock. Discard the boiled ingredients and reserve the stock.
Meanwhile, in a separate 2 qt. (2 lt.) saucepan, fill with water and bring to a boil. Add the tomatoes, and simmer for 2 minutes, until the skins split. Using a slotted spoon, remove the tomatoes from the water, and add the dried chiles. Simmer the chiles for 10 minutes until they are soft.  While the chiles are boiling, peel, core and seed the tomatoes. Once the chiles are soft, remove from the water. Discard the water once it is cooled**. Remove the stems and seeds from the chiles, rinsing away any seeds that cannot be removed easily. Place in the container of a blender, along with the tomatoes and chopped onions. Add 1 qt. (1 lt.) of water, or just enough to facilitate blending, and blend into a smooth puree.
When you are ready to prepare your caldo de marisco, bring the stock back to a simmer. Add the chile puree, and simmer uncovered for about 10 minutes. Add the scallops, crab, shrimp and the remaining fresh seafood. The reserved fish filets should be cut into 1" (2.5 cm) pieces and added to the caldo as well. Simmer the caldo for 5-7 minutes, until the added seafood is thoroughly cooked, but still firm to the bite.
Serve with corn tostadas, and garnish with chopped cilantro, lime wedges and slices of avocado.
Notes
*Any type of seafood gets its flavor from the heads, bones and shells, and not from the flesh. It may be slightly traumatizing for some to see the head of a fish bobbling around in the delicious, fish scented waters of the fish stock you are making in this recipe, but there is no way around it. Unless, of course, you choose to enjoy caldo de marisco in a restaurant, where most kitchen practices remain a mystery. I say make it at home. Delicious!
It is always hard to tell what will be the freshest seafood available at your local market. Use the best ingredients that you can find. If your super market only has frozen seafood, select whatever seafood seems to look the best, or sells the most (with the exception of fish sticks. Don't use those.)
**Many people ask me if htey should reserve the water that the chiles have been cooked in for adding to another dish. I say no. It is difficult to wash dried chiles, but simmering them in hot water seems to clean away any debris or dust that may have accumulated in their wrinkly skins. That dirt goes right into the boiling water. Hence, you should think of chile boiling water like bath water, and simply pour it down the drain.