Print
How to Make Homemade Flour Tortillas
2

lbs. flour (about 7 cups) (1kg)

2 tsp

. baking powder (8gr)

1 tbsp

. salt (4gr)

1 1/3

vegetable shortening (250gr)

2 cups

hot water (480ml)
Instructions
In a large bowl, add the flour, baking powder, salt. and shortening. Knead well with your hands. Add in the water a little at a time until you have a smooth dough.
Knead the dough for about 90 seconds, until elastic.
Form the dough into 40 small patties. Return the patties to the mixing bowl, and allow to rest for 20 minutes. Heat up your griddle.
With a rolling pin, roll out the patties into tortillas, as thin and round as possible (this takes a lot of practice!).
Place tortilla on the hot griddle. Flip tortilla to cook on the other side after 45 seconds. Flip again after 45 seconds. Flip one more time. The tortilla should puff up.
Take tortilla off the griddle after 20 seconds and place in a clean towel to keep warm. Continue with the remaining dough.
Practice Makes Perfect
I have only one thing to say about flour tortillas: practice. Getting the dough part right is not too hard. Below is the classic flour tortilla recipe, measured in kilos. I converted it to cups for you, but to get consistent results, I would do it a la Mexicana and weigh the ingredients on a scale.
The hardest thing about flour tortillas is to get a round tortilla. Flour tortillas are rolled out with a rolling pin, not pressed with a tortilla press. The thinner the tortilla gets, the more difficult it becomes to control its shape. The goal is to achieve whisper thin tortillas that are a complete 360° circle.
Frankly, the fact that you have undertaken the project of making homemade flour tortillas is admirable enough to outweigh any misshapen results. Make a game of it. Ask the kids what they imagine the shape of the tortilla to be, like looking for images in the clouds. You never know what you will see (Look Mom! It's Elvis!).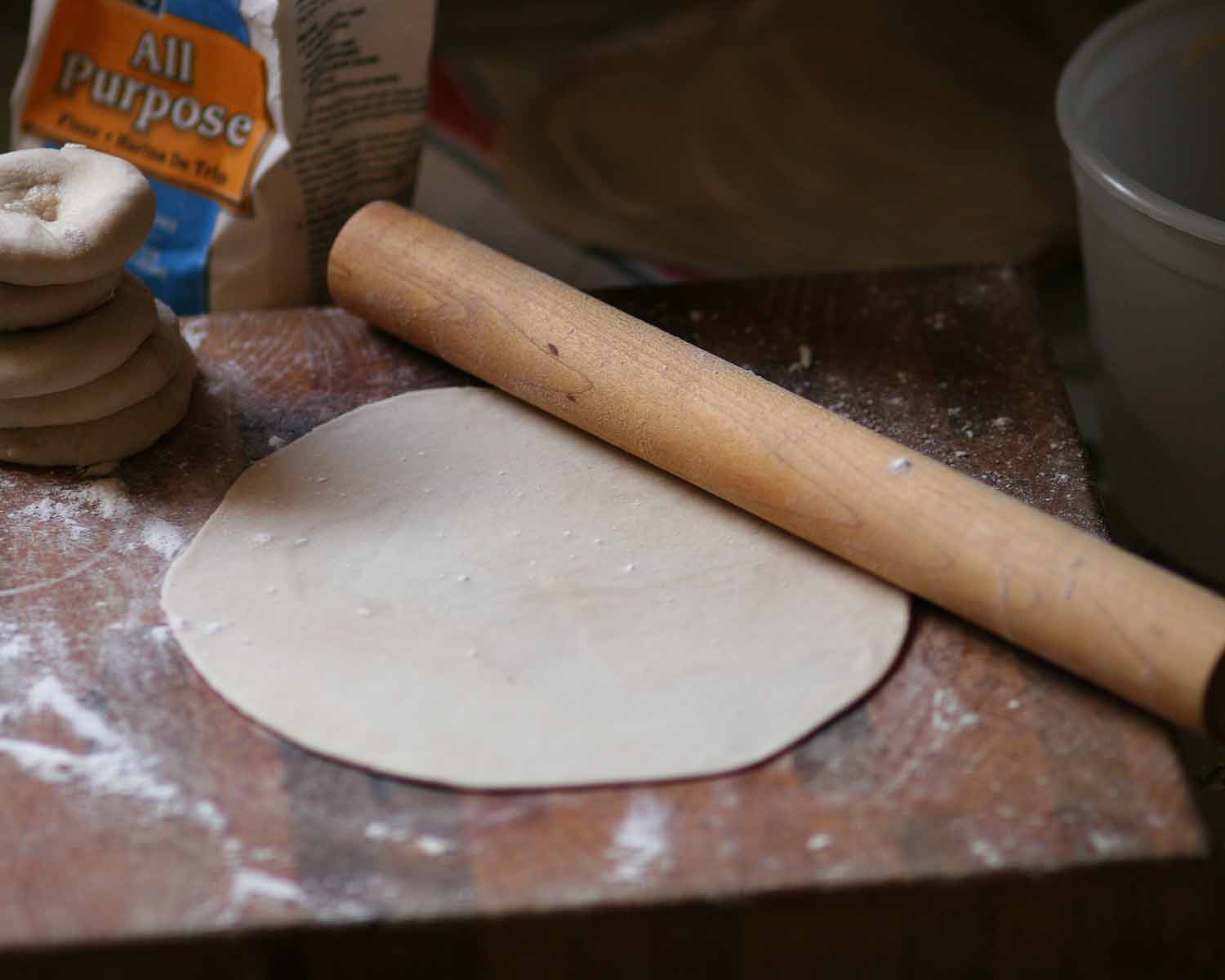 The 3 Secrets: Extra flour for the surface, extra practice roll round tortillas, and extra time for dough relaxation
The most super secret tip for making round flour tortillas is to let the dough relax for a couple of hours either in the fridge or at room temperature after the dough is well combined. Our recipe instructs you to allow the dough to rest for 20 minutes, but that is a minimum amount of time. If you can, leave the dough in the fridge overnight covered, so it does not develop a crust on the surface of the dough. You will be surprised how easily it rolls out the next day. Also, use a little extra flour on your rolling surface, so your dough doesn't stick.