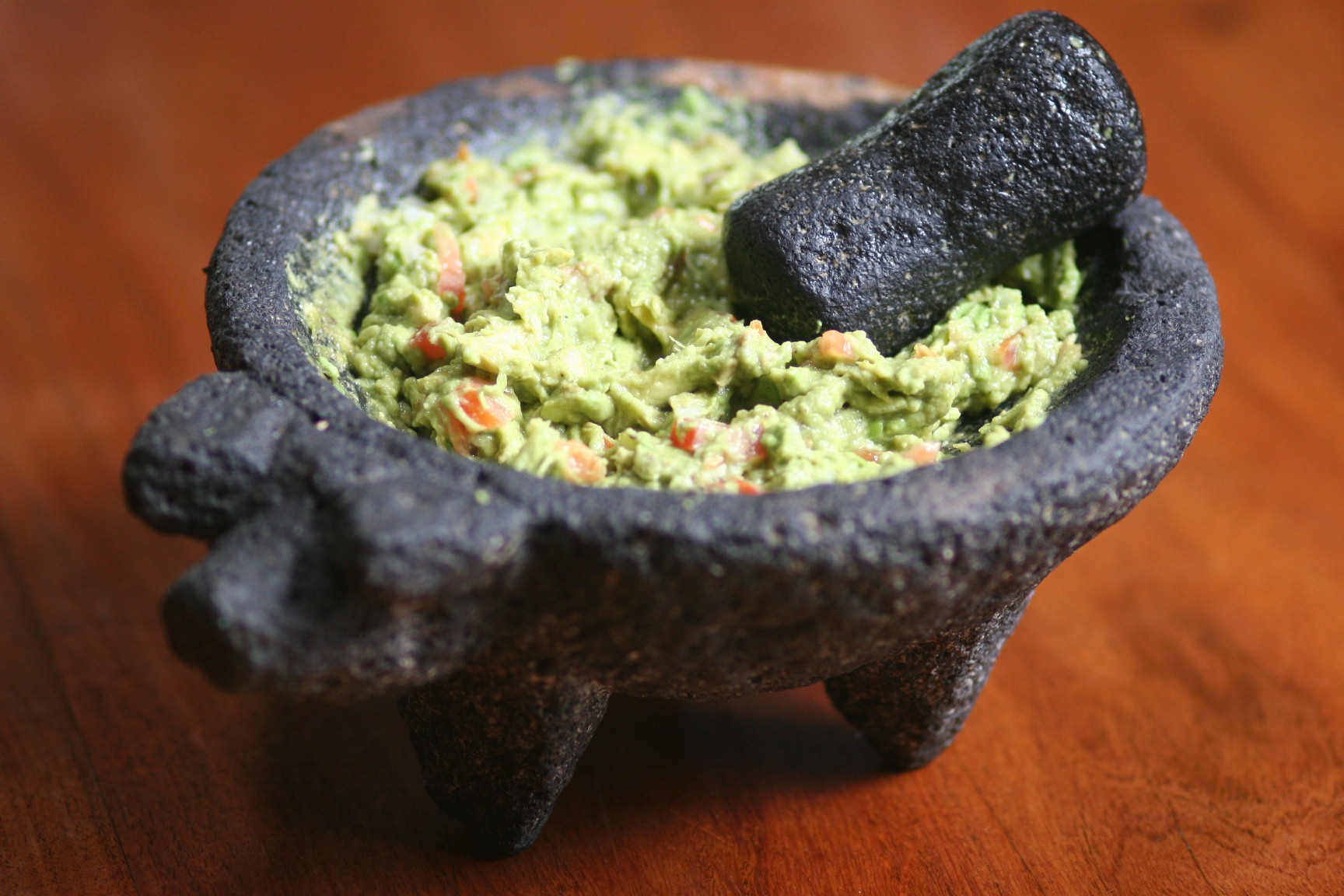 What is Guacamole?
Guacamole is a Mexican side dish prepared by mashing avocados with various spices, onions, and tomatoes. The word guacamole is derived from Nahuatl, the language of the ancient Mayans (scroll to bottom for spicy definition!), indicating that the recipe is ancient as well. Guacamole can be served as a dip with corn tortilla chips, used as a sandwich spread, or can be used as a filling for tacos and quesadillas.
What is Authentic Gucamole?
In my Youtube video, I talk about authentic guacamole only requiring avocados, chiles, a little salt and a touch of lime juice to keep the avocados from turning brown. I believe authenticity is based in where the ingredients come from – if avocados (the main ingredient for guacamole) are native to the Americas, then you should stick to the ingredients that are from the Americas – Tomatoes, chiles and pinapple are from the Americas, but garlic, onions and black pepper are from Asia. The recipe below is what we expect in a traditional guacamole – which includes onions and garlic – but now you know that the original guacamole would have just been avocados and chiles. I love food history!
How To Make Guacamole
Making authentic Mexican guacamole is an easy, delicious addition to any table. Here are a few tips for delivering the best bowl of homemade guacamole to your next dinner party!
Select avocados that gives slightly under the pressure of your thumb when you press on the stem end. If your party is several days away, select a more firm avocado. Avoid avocados that have sunken spots.
Avocados always ripen faster at room temperature, and best used within one week if stored in the refrigerator.
Slice the avocado in half, then scoop out the fruit, reserving the pit. Avocado seeds prevent the prepared "guac" from browning.
Using a molcajete is fun, and gives your recipe an incredibly authentic result. Spices and chiles ground in a molcajete have a pleasing, stone ground texture. Mashing the ripe avocado in the molcajete bowl picks up every particle of the ground spice mixture.
If you don't have a molcajete, don't worry! Just mince the garlic and chiles as finely as possible. You can mash the avocado with a potato masher, or on a dinner plate using a long-tined fork.
Try adding about 2 tablespoons each of chopped cilantro, tomatoes, or onions to the recipe below to give a crunchy fresh flavor.
Delicious as a dip with corn chips or veggies, or served as a side dish with roasted meats or tacos.
Word Nerd Alert – The word Guacamole is a combination of two Nahuatl words: Auácatl, which in addition to translating as "avocado" can be translated as "testicle," and mole, which means "sauce." Don't let yer eyeballs fall out, kids. You read that right. MG
Print
How to Make Authentic Guacamole
1

clove garlic, peeled

¼ tsp

whole black pepper (<1gr)

½ tsp

sea salt (1gr)

1

fresh chile Serrano or your favorite fresh spicy green chile, (approx. 2" (5cm)long)

2

medium avocados, peeled and cut into chunks (reserve the avocado pit)
Instructions
Using a molcajete, grind the garlic, black pepper, sea salt, and chile, until they form a fine paste. Add the avocado chunks, and mash well along with the spice paste. After a couple of minutes of mashing, the avocado and spice paste should be well combined. Serve the guacamole in the molcajete, garnished with the reserved whole avocado pit.